Series
Spiced Wine
[ - ]
Summary: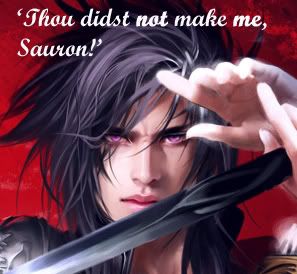 Vanimórë, son of Sauron, was born in the shadows of Tol-in-Gaurhoth. A plaything, a slave, a warrior, he was bound to his father's mind, and tempered as a weapon of the Dark over thousands of years.

They forged better than they knew.

Trained in the pits of Angband, Vanimórë could command armies, kill without conscience, and he could hate those he served. But he would not break for them. The blood of the Eldar ran strong in him. His path was inextricably linked to some of the most famed and tragic of the Elves, and lead to a destiny he could never have imagined.

The Darkness –
– has its own Light.


Category:
Fiction
Characters:
Aredhel
,
Balrog
,
Beleg
,
Caranthir
,
Celegorm
,
Curufin
,
Daeron
,
Ecthelion
,
Elladan
,
Elrohir
,
Elrond
,
Eluréd
,
Elurín
,
Erestor
,
Eru
,
Fëanor
,
Fingolfin
,
Fingon
,
Finrod
,
Gil-galad
,
Glorfindel
,
Legolas
,
Maedhros
,
Maeglin
,
Maglor
,
Mandos/Námo
,
Manwë
,
Melkor/Morgoth
,
Mouth of sauron
,
Nimrodel
,
OFC
,
OMC
,
Orc
,
Sauron
,
Thranduil
Content:
Angst
,
AU
,
Character Death
,
Drama
,
Dubcon
,
Erotica
,
Explicit Sex
,
Rape/Non-con
,
Slash
Challenges:
None
Stories:
6
Challenge:
None
Open:
Closed
[
Report This
]
---
by
Encairion
[ - ]
Summary:
I refuse to accept that the Eldar are bound to the starless midnight of these petty lives the Valar have boxed us into. I refuse to accept that we will never walk through these shadows and into the bright daybreak of freedom!" –Fëanor in The Revolutionary and the Usurper
rn
He asked me to explain it. But how can one explain what the Silmarils were to the followers of the Fëanorions? Elrond, for all his love for Maglor, had never been a Fëanorion. How could I put into words the obsession turned worship? The Silmarils had risen to godhood, divine, in our eyes. They were the justification for our every deed, the reason we'd suffered so much. They were what made the deaths worth something. They were the light we fixed our eyes to in desolation. They were the things we cursed and blessed, bled for, hoped for, killed for. They were our salvation. They were our damnation. And they were nothing, nothing to the loyalty that put my feet on the path to Doriath, following my lords." –Erestor in The Price of Duty
rn
His lips fell like a star on Fingolfin's and launched them into orbit. Their chests crashed against each other, Fingolfin's fingers shaking and starving in Fëanor's hair, pulling and pushing and don't you dare stop. Fëanor put his hand on Fingolfin's neck, on his pulse, to hold his head right where he wanted it, and heard the pound pound pound of Fingolfin's heart opening and closing in sync with his own." –Come once again and save us
Category:
Fiction
Characters:
Amdír
,
Amras
,
Amrod
,
Amroth
,
Aragorn
,
Aredhel
,
Arwen
,
Aulë
,
Beleg
,
Beren
,
Black Numenorean
,
Caranthir
,
Celeborn
,
Celebrían
,
Celebrimbor
,
Celegorm
,
Curufin
,
Ecthelion
,
Eldarion
,
Elenwë
,
Elladan
,
Elrohir
,
Elrond
,
Elros
,
Eluréd
,
Elurín
,
Elwing
,
Eonwë
,
Erestor
,
Eärendil
,
Eärwen
,
Eöl
,
Fëanor
,
Finarfin
,
Finduilas
,
Fingolfin
,
Fingon
,
Finrod
,
Finwë
,
Galadriel
,
Gil-galad
,
Gildor
,
Gimli
,
Glorfindel
,
Gwindor
,
Idril
,
Indis
,
Irimë
,
Legolas
,
Lindir
,
Lúthien
,
Maedhros
,
Maeglin
,
Maglor
,
Mandos/Námo
,
Manwë
,
Melkor/Morgoth
,
Míriel
,
Narvi
,
Nerdanel
,
Nimrodel
,
OFC
,
OMC
,
Orodreth
,
Oromë
,
Oropher
,
Rúmil
,
Saruman
,
Sauron
,
Thranduil
,
Thuringwethil
,
Tuor
,
Turgon
,
Túrin
,
Voronwë
Content:
Angst
,
AU
,
Character Death
,
Drama
,
Dubcon
,
Explicit Sex
,
Femmeslash
,
Het
,
Incest
,
Rape/Non-con
,
Romance
,
Slash
Challenges:
None
Stories:
9
Challenge:
None
Open:
Closed
[
Report This
]
---